What is advpix?
October 17th, 2012 by admin
It is a system that allows you to place ads in the pictures. The principle is very simple. Publisher may add after registering his websites, which includes photos, sets up an account, generate a special code and fix the billing model. It can also take advantage of many other additional solutions, which increase its income (using the analysis option). Advertiser (register now!), through an intuitive wizard adds its advertising campaign, sets the budget and set options, such as a form of advertising, publishers categories, additional filters, alerts, etc.. Then advpix.com platform automatically analyzes carefully selected publishers and combines this with a particular advertiser's campaign.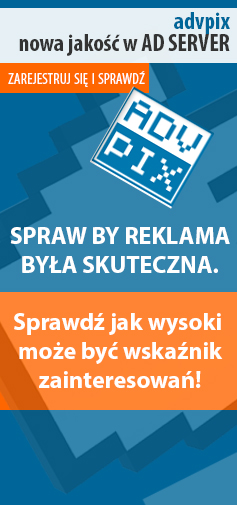 Advpix. New way to reach customers by photos! Advertise on photos and start earning now!
Everything works in an automatic way without human intervention. Information about the robot (Spider) advpix can be found in the FAQ section, accessible to everyone after login.
Pages, blogs or websites publishers are constantly monitored by the advpix robot (spider) to accurately match ads to pictures. Therefore, the degree of inappropriate ads to the content of images are minimal. Create an account and see now, how it works.
How the picture will look like?
Photos appears on pages, blogs and web portals based on the platform advpix (register now!), are distinguished by special markings "icon labels" when the mouse is over or clicked, in which there is an interactive advertising balloon, a place where you can buy it and many additional options. Every user action is recorded in the statistics of the platform, so the publisher and the advertisers are receiving detailed information. To the photos you can assign one ad, or specify them and assign ads to individual items in the picture. Check out what you can do with a photo in the FAQ section.
Do you want to take advantage of our innovative system? Register as a Publisher or Advertiser. Meet the advpix, check it out, costs and possibilities.  If you have any questions – please contact us.