For Publishers
October 18th, 2012 by admin
Do you have your own website, blog or web portal? Do you want to start making money or increase your income? Start working with advpix.com! At the beggining, we offer you innovative technologies, which visually heighten the enjoyment of your site. Next you will get attractive rates per click or impression (CPM / CPC) and fast payment date. If you are still not satisfied, you still have the option, which you will not find anywhere else. Refine your photo and place on it few ads and make sure your income will increase.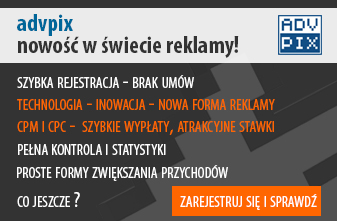 Bądź pierwszy !!! Odkryj nowe formy reklamy – zarabiaj na zdjęciach.
Sprawdź interaktywną reklamę w oparciu o ad server.
Why the photos on your website would not get paid? They take an average of 20% of the page, are not disturbing anyone, are less invasive and do not irritate visitors. Just try – registration costs nothing. Do not hesitate to sign up. Filling out the form will take you up to 30 seconds! After verification of the information in the form, you will receive an e-mail for account activation and instructions for further proceedings
Keep in mind, that it is worth to add interesting and good quality images corresponding to the context, so that the advpix system can associate ads on the content and pictures. For more information and details on the technical side, take a look at our FAQ and advertising regulations after logging into your account. Check the Terms and Conditions and make quick registration.